When shopping for toys for your loved ones, browsing online seems like a much more stress-free option. However, purchasing stuff online is not always a safe solution and can result in mediocre to poor quality of the product you want to buy. If you want to buy toys the old-fashioned way, check this article out because we are listing the best toy stores Washington DC.
The capital city certainly offers numerous options regardless of the toys you want to buy, but too much choice is not always the best thing. You might get stuck in the repetitive cycle of finding the right store that offers the best quality you can find and spend a lot of time in this process. We realize that this might turn into a struggle, so after thorough research, we assembled a list of the best stores in Washington.
1. Labyrinth Games & Puzzles – 645 Pennsylvania Ave SE, Washington, DC
Labyrinth Games & Puzzles is a toy store that offers a unique and stress-free shopping experience for all of its customers. The store specializes in everything related to non-electronic games, puzzles, magazines, etc. Moreover, the games from this store are suitable for various ages.
This store has served the DC metro area for the past eleven years and offers family-friendly, community-focused service. You can find roleplaying games, puzzles, cards, party games, LEGOs, games for families, and many more.
2. Anglo Dutch Pools & Toys – 5460 Westbard Ave Bethesda
Anglo Dutch Pools & Toys was founded back in May 1985, and it remained, over the course of years, a family-owned store. The store offers different types of services, including robotic and pressure-side pool cleaner repair, pool and spa water analysis, swimming goggle fittings, gift wrapping, and shipping.
The store specializes in toys such as LEGO, Hasbro, Playmobil, Mattel, Squishables, Uglydolls, Gund, Jellycat, Science Kits, and countless more. The staff is very friendly and informative and will provide the best possible service.
3. Three Littles DC – 1260 4th St NE, Washington, DC
This store is an excellent place to buy high-quality, quirky, fun, interesting, and educational toys for babies, toddlers, and adults. The toys from this store are very durable and made of top-notch materials, so you can be assured that you are spending your money wisely.
It is a store in which you can find some toys that you surely will not be able to find elsewhere. The staff does an excellent job in recommending the appropriate gifts for different ages and are very friendly and communicative. It is a great and unique store, where you will undoubtedly find something fun as a gift for your loved ones.
4. Transcendence-Perfection-Bliss Of The Beyond – 3428 Connecticut Ave NW Washington, DC
This locally-owned and operated toy store has been around for 37 years, and it has remained an oasis of entertaining gifts, cards, toys, and gadgets. It is located in the heart of Cleveland Park and is a great neighborhood institution that is easy to reach via metro or bus.
It is a calm, quiet, and peaceful store filled with some of the best card collections in DC, scarves, children's toys, and gifts. The owner and the staff are very helpful and kind and will provide you with any assistance you need to purchase the right gift for the right age and interests.
5. Tugooh Toys – 1426 Wisconsin Ave NW Washington, DC
Tugooh Toys is a store that specializes in the sale of eco-friendly and educational toys, games, and books for children of different ages. The store was founded in 2007 with the goal of fostering children's creativity and imagination.
It is a small shop off of M Street that makes good use of space and stores various types of toys for different needs. There are stuffed animals of all sizes, games, costumes, and much more. It is an especially good place to buy toys for toddlers and kids of younger ages.
6. Child's Play Toys & Books – 5536 Connecticut Ave NW Washington, DC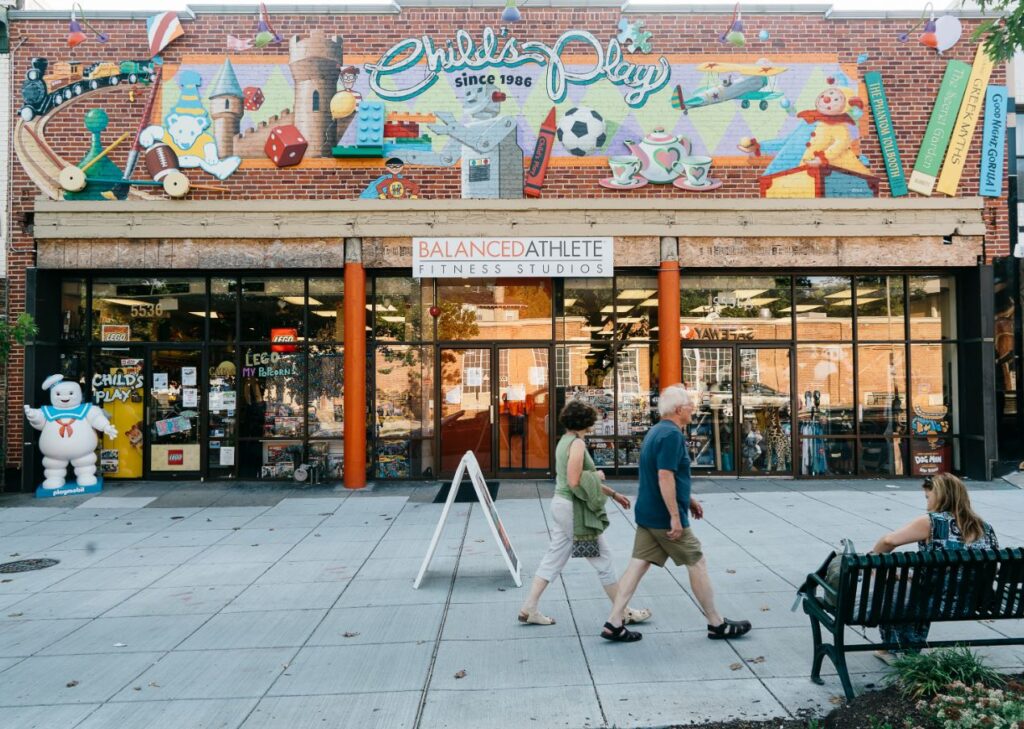 This locally owned toy store boasts a wide collection of quality toys and games for kids of all ages, ranging from stuffed animals and action figures to building toys, LEGOs, board games, and science kits. All of these toys come from trusted brands so you can rest assured that you are spending your money wisely.
There are also books, supplies for art classes, and crafts for kids. The staff is very friendly and will adequately assist customers in making the best possible choice. They also care about children's health and their overall experience when playing, so they play all the games and read books before selling them in the store.
7. Mirasa Design – 7th St SE Washington, DC
Mirasas Design is a toy store inspired by everyday life, and it sells everything from baby gear and furniture to toys and children's clothing. In Hindi, Mirasa means heritage, and the founder of the store, Asahumi Shah, strives toward delivering the highest quality of toys and children's gear.
The store is opened online every day; however, the market in Washington DC is open on most Saturdays and Sundays from 9 am to 4 pm. If you want to get the best possible shopping experience, make sure to contact the owner of the store to check when the staff is in the locale.
8. Whistle Stop Hobbies – 1719 Centre Plaza Alexandria, VA
Whistle Stop Hobbies is the only toy store in Alexandria that is family-owned. It is an old-fashioned store established to provide adequate service for both young and old customers. The store opened for the first time in 2005 and has run a lucrative business ever since.
The store offers the highest quality hobby items such as LEGO, N – G gauge trains, Thomas the Tank engine, building sets, remote control vehicles, airsoft guns, die-cast cars, and many more. The staff is very helpful, especially if you are uncertain about which toy you should purchase, and will welcome all of your questions with a smile and assistance.
9. Toy Soldier Shop – 503 11th St SE Washington, DC
Toy Soldier Shop is a perfect location to shop if you are into antique toy soldiers, as it is one of the last such stores in the entire country. Since the days of toy soldier shops in most cities are over, this is quite a unique store, where you will be able to find various collectible items and toys.
The shop occupies the first floor of a beautifully restored double parlor row house. The owner is Neil Rhodes, and you can find him inside the shop almost every Saturday. Once you are inside the store, the owner will answer any questions you have about these antique toys. In case you are a collector, you will have an absolute time of life in this well-supplied old-school toy store.
10. Monarch Carnival Supply Company – 1331 14th St NW Washington, DC
Monarch Carnival Supply Company is a cool little store for everyone that is into old fair/carnival prizes. It also has old political campaign items such as buttons, posters, toys, pictures, etc. Moreover, it is located on one of the last downtrodden blocks in the Logan Circle part of 14th street.
The store offers various carnival prizes and vintage toys that are excellent additions for collectors. It is a unique store with an interesting interior, and it is instantly recognizable as the tumbledown storefront on the block of 14th between Rhode Island and N St.
11. Fairy Godmother Children's Books & Toys – 319 7th St SE Washington, DC
This tiny shop is an excellent location to get various types of toys and children's books. Although the store is pretty small, there are countless options you can go for, especially if you are purchasing toys and books for younger children.
The selection of books is equally incredible as the toy collection. Moreover, you can find both types of products for different ages. It is an old store that has been around for a very long time, and the great thing about it is that it still has some vintage toys and books that are well-preserved.
12. One Two Kangaroo Toys – 4022 Campbell Ave Arlington, VA
One Two Kangaroo Toys is one of the last remaining small-business toy stores. It is jam-packed with quality items coming from trustworthy and dependable brands. The fact that the store is very small does not stand in the way of the business.
On the contrary, all the items from the store are carefully selected, and the customer service is absolutely on point. There are lots of hand-selected high-quality toys and games to pick from, and the staff and owner are very helpful and responsive to all the questions you have about the products in the store.
13. The Toy Nest – 125 N Washington St Ground level Falls Church, VA
The Toy Nest is absolutely amazing store that offers an endless variety of toys, as well as an indoor play center. The store itself is very well organized and neat, so you will not have any issues finding the toy that you like. In addition, the staff is very cheerful and friendly and will assist you with anything you require.
What makes this store so unique is the fact that you can return and exchange toys, which is pretty good for children that like to play when they have more choices. The owner does an excellent job in suggesting which toys your kid might like better and will find alternatives easily if you decide to pick up something different.
Final Words
Playtime is very important for kids as it helps with their emotional, social, and physical development. This is why you should always pay attention to the type of toys you are buying for them, as they can be educational, developmental, or just plain out fun.
We hope you liked our list of the best toy stores in Washington DC. If you ever find yourself in any of the neighborhoods where these stores are located, feel free to stop by, and we guarantee that you will not end up being disappointed.